Does your anticorruption training actually
reduce corruption?
Honestly, probably not.
Broadcat's Anticorruption Essentials Content Collection contains everything you need to introduce your employees to anticorruption risks and how they can help prevent them.
If you want to go more in-depth, we've got that covered with our Advanced Topics Collection. The Collections contain different formats for all of your training needs, are ready to deploy, and are fully customizable by you or us.
Our compliance and ethics job aids, screensavers, and modules for anticorruption cover a range of topics like:
managing a third party
working with a charity
what can you give to a government official
travel & expense red flags checklist
what to do when asked to pay a bribe
what to do when payment terms are confusing
third party module
and more!
Our Content Collections will help you save time, be more effective, and have a lot less to worry about.
Find out more about our Anticorruption Content Collection.
View the entire anticorruption collection
Download the PDF to see all of the helpful job aids, checklists, modules, and more in our Anticorruption Content Collection.
Trusted by compliance leaders just like you
"Whether it was for in-person distribution to address immediate compliance risks, presentations to executive leadership, or virtual onboarding and training, Design Club has materials and tools that worked for our needs"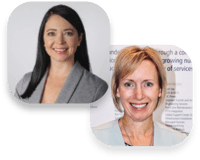 Brianna Woods
Director of Compliance and International Trade, AFL
Claire Lawrence
Senior Corporate Paralegal – Compliance/Privacy/Legal Operations, AFL