Your employees need to keep patient information private.
Help them do that.
Practical and compelling visual resources, guides, and training tools that will accelerate your communications with your health professionals.
In healthcare, reaching employees with compliance is tough.
Because, you know, your employees are helping keep people alive—but they don't do it at a computer behind a desk. Whether they're scrubbing into surgery, researching a new and promising treatment, or talking with a patient about how to take better care of themselves, you know one thing is true:
They don't have time to sit through online training that they won't remember anyway.
Broadcat's Healthcare Privacy Essentials Collection contains everything you need to introduce your employees to healthcare privacy issues and how they can help prevent them. And if you want to go more in-depth, we've got that covered with our Advanced Topics Collection.
The Collections contain different formats for all of your training needs and are ready to deploy. They are fully customizable by you or us. Our job aids, screensavers, and modules for healthcare privacy cover a range of topics including:
handling health information?
HIPAA, not HIPPA
keep, move, or discard it?
is this health information?
do I need consent to use health information?
is this a breach?
are you an information blocker?
and more!
Find out more about our Healthcare Privacy Content Collection.
View the entire Healthcare Privacy collection
Download the PDF to see all of the helpful job aids, checklists, modules, and more in our Healthcare Privacy Content Collection.
Trusted by compliance leaders just like you
"Whether it was for in-person distribution to address immediate compliance risks, presentations to executive leadership, or virtual onboarding and training, Design Club has materials and tools that worked for our needs"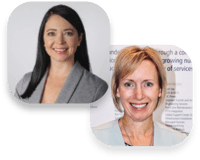 Brianna Woods
Director of Compliance and International Trade, AFL
Claire Lawrence
Senior Corporate Paralegal – Compliance/Privacy/Legal Operations, AFL