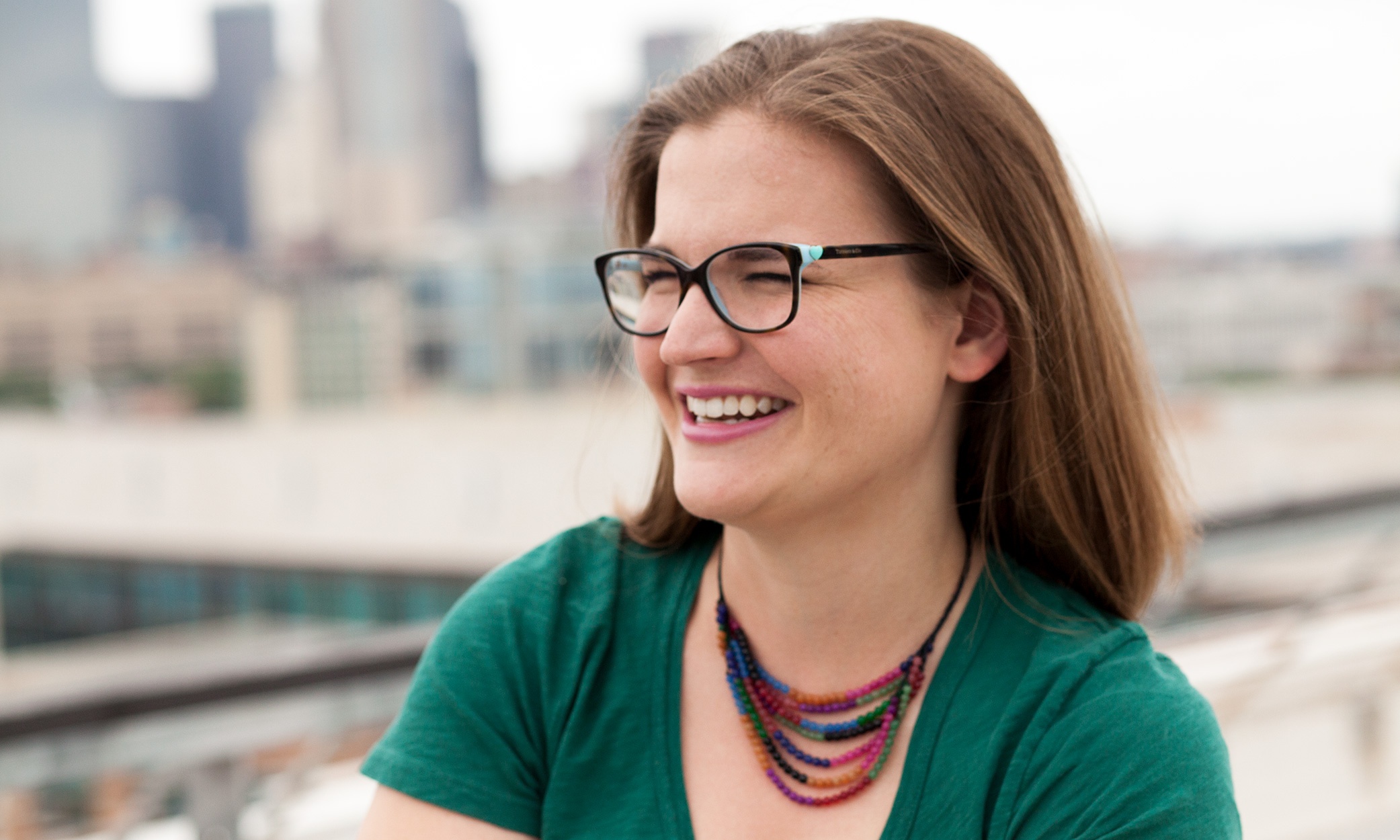 We've supercharged your subscription!

Courtney Sander
• •
Hey there! I'm Courtney, one of the latest additions to the Broadcat team. And if you're one of our customers, I'm here to help.
When you're in-house, you put a ton of time and energy into creating policies and training. But you're also so busy that it's hard to find time to strategically market them.
You should get years of impact out of your big projects—but too often, you have to move on to the next initiative before you even have a moment to think about how to do that. And once the next project hits, the last one is all but forgotten—by you and your employees.

I've been there, and now I'm here to help you strategize how to get the most value out of your initiatives. We'll get tactical and plan how to get lasting impact and visibility out of your work, so you get long-term value without having to constantly re-invent the wheel.
If you're a customer, we've likely already talked—or we're still playing email tag and I look forward to getting to know you!
For everyone else, I want to give you a snapshot of my Broadcat adventure so far.
How I got here.
I'm a CCEP with a master's in applied and professional ethics, and up until a few months ago I was an in-house ethics and compliance practitioner. I started off in E&C in engineering at Smiths, and I was more recently on the team at Petco.
I did a bit of everything, with most of my time spent managing the hotline, creating training and awareness materials, writing policies, and working with vendors to execute these initiatives. This tune might sound familiar to you folks on smaller compliance teams.
There's a good chance that you and I both became familiar with Broadcat at the same time—at their session during the 2016 SCCE Compliance & Ethics Institute. I was in the audience for their presentation that became this booklet on Keeping Compliance Simple.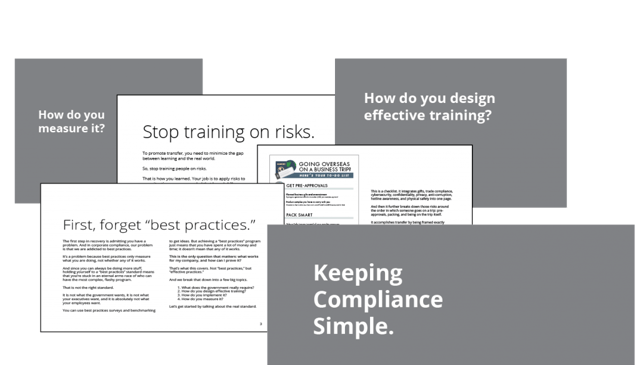 Fast forward about five months.
I open my LinkedIn page and see I have a message from Ricardo. Turns out, he found me because I had my CCEP and I was a second-degree connection. He wants to talk to me about a job.
(Proof, by the way, that having your CCEP and an in-shape LinkedIn profile can help you get your next job.)
Ricardo emailed me the job description and it had so much potential and open-endedness to it. I'm psyched because I know this is the direction I want to move in. So, I agree to talk with him.
The whole process moved insanely fast: messaged on Wednesday, emailed on Thursday, and a phone interview on Friday.
I soon found myself on a plane to meet the Broadcat team. The office is in Dallas' old Sears warehouse and filled with brightly colored furniture, topped off with a zombie-shooting arcade game. And they're on a quest to conquer the E&C training monster.
The whole experience had me wondering how I had gotten to this exact point in time.
And then I said yes and packed up my life in San Antonio—here we are!
What it's like to work here.
I work fewer hours, but they're harder. I leave mentally exhausted because the pace is extraordinarily fast and speeding up as I write.
The zombie game is fun, but really, I haven't played since my interview because there's no downtime.
Everyone takes a week-long vacation every quarter. I never took vacation when I was in-house, but after three weeks, I understand why it's a way of life here.
The learning curve is steep— it's like drinking from a fire hose, no, it's like standing over Old Faithful.
Styling a familiar E&C document into one of Broadcat's pieces is a challenge—making something simple is incredibly hard. There are so many moving pieces. And everything goes through so many changes before we reach the final product.
I'm getting better at speaking our design team's language, and vice-versa—I'm helping some of them prep for their CCEP exams in Vegas this fall.
It's been great to connect with all our clients, too—some are folks from my past life in DC and others I've met at conferences, so it's awesome to reconnect.
I'm settling right in to the building, too. My new friend Marcus, the building concierge, gave me a key to enjoy the rooftop deck: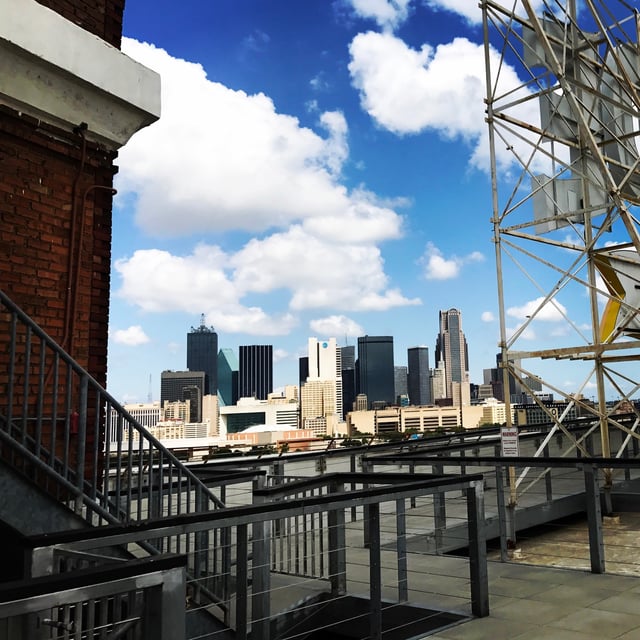 This is an amazing view of the Dallas skyline—you'll find me here during the lunch hour.
We also have an office dog, Mrs. Frank Pickles: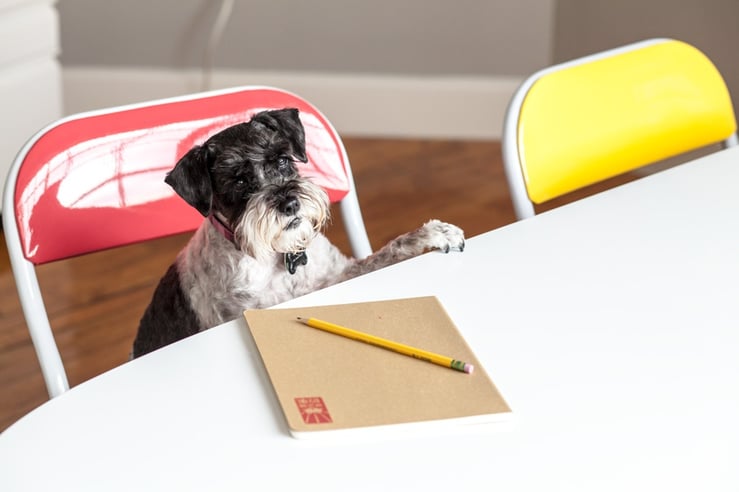 I haven't been able to teach her how to write copy, but I'm hoping to have better luck with an intern this summer.
The Broadcat Life.
From a professional perspective, joining the Broadcat team was an easy decision. I'm stoked to be here.
The hardest part about the decision was leaving my familiar San Antonio. (What do you mean there's no HEB in Dallas?!)
But Dallas is slowly growing on me thanks to the beautiful parks and delicious food. Here's a treat from Hypnotic Donuts that caught my eye: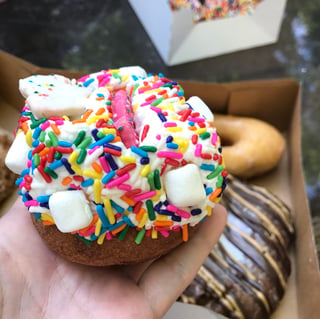 For the record, I didn't eat this kid-approved doughnut, but my exchange student thoroughly enjoyed it.
I'm eager to try a fried oyster on pimento cheese toast that's at one of the restaurants near our office—even the thought of eating this is a big personal achievement since I usually stick to land-based foods.
I've also realized that I fit in with our unconventional culture. I can make a great contribution to the E&C world, but I'm able to be my bread-baking, trombone playing, British TV-watching, chick-lit/humor book-on-tape self.
Even though I sometimes feel like I've fallen off the boardwalk at Yellowstone and onto Old Faithful, I know I made the right choice—and I'll talk to you again soon.