Transform Your Compliance Culture with Ethics Ambassadors

Jennifer May
• •
Want to create an Ethics Ambassadors Program, but aren't sure where to start? Or already have one, but it needs a refresh? Never fear, Broadcat is here! A few years back, we posted a blog about getting your business to own compliance culture, and the sentiment is still very true today. No compliance team can influence their company's culture on their own—it has to be shared with the business. You already know the best way to do this (hint: Ethics Ambassadors, in case the title didn't give it away 😉). Now, let me show you how to get it done with PEP!
PEP Up Your Ethics Ambassadors
First, PREPARE your organization by creating a strategy and outline of what you plan to do with your Ethics Ambassadors by answering the 5Ws (who, what, where when, why) and H (how) of the program. This will help your org better understand your goals, create the buy-in you'll need, encourage leaders to nominate rising stars to participate in the program, and ultimately support the Ethics Ambassadors in their efforts!
Next, you need to EQUIP your Ethics Ambassadors with the knowledge they need to confidently hit the ground running. Make it easy for them by providing a strong onboarding and communicating regularly about topics you want them to communicate to their teams. Then support your Ambassadors' efforts by providing talking points and email drafts to include with any job aids or other resources they will furnish to their peers. Also, allow lots of opportunities and outlets to ask you questions and get the info they need to boldly go forth!
And, of course, you'll want to PROVIDE opportunities for your Ambassadors to continue to grow in their roles as organizational leaders. The Ethics Ambassador network you build is the perfect place to create open dialog, collect feedback, and establish a community of support across the organization.
We're in this together!
We've Got Your Back!
Feeling overwhelmed? We certainly understand! And we also know you might not have time to create an Ethics Ambassadors Program from scratch. That's why we've done some of it for you!
Stay tuned for Broadcat's Ethics Ambassadors Onboarding module, coming very soon to Design Club. 🥳
Get your team off to a great start with this new onboarding module! This handy-dandy deck lays out everything you need to launch your program—from defining the scope and organizing your program to executing useful, easy-to-use tools on a consistent basis.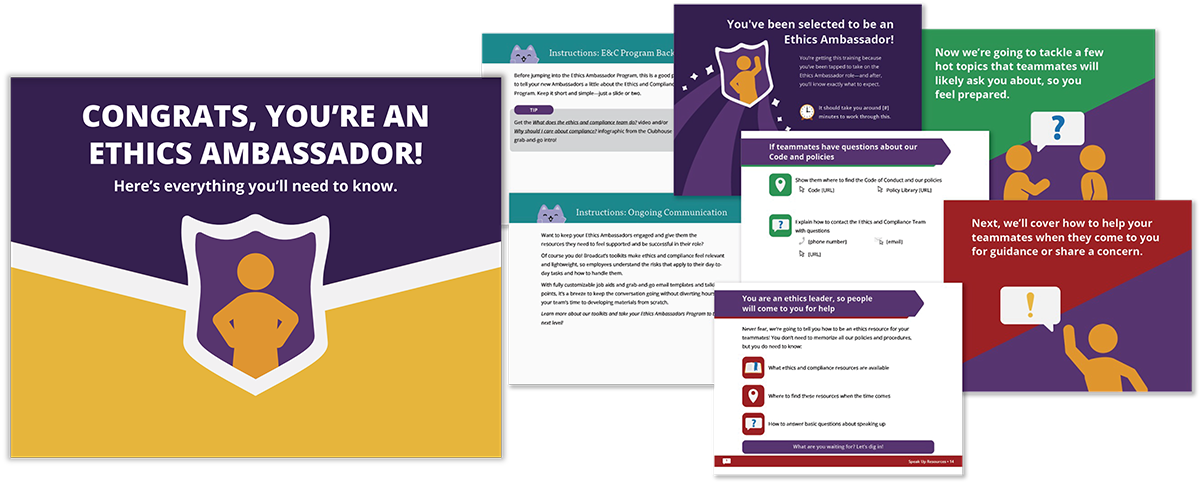 Inside this module, we cover:
Why ethics and compliance matters
The role of the Ethics Ambassador
An Overview of key policies
How to develop a culture of trust
But what if I have more questions or need additional help?
We've got you! 💪
Broadcat can also support you with direct consulting services tailored to meet your specific needs:
Want to talk about your Ethics Ambassadors Program design? We can do that!
Need help creating your communications plans? No sweat!
Want help customizing pieces to align with your brand? That's a definite can-do!
Reach out and let's talk about building or upgrading your program.
Is putting together an Ethics Ambassadors Program a lot of work? Honestly, yes, it is. Is it worth it? Absolutely! And you can do it. Plus, we're always here to help!

Join Compliance Design Club today and equip yourself and
your program with simple, thoughtfully-designed tools
that make compliance simple for you and your employees.