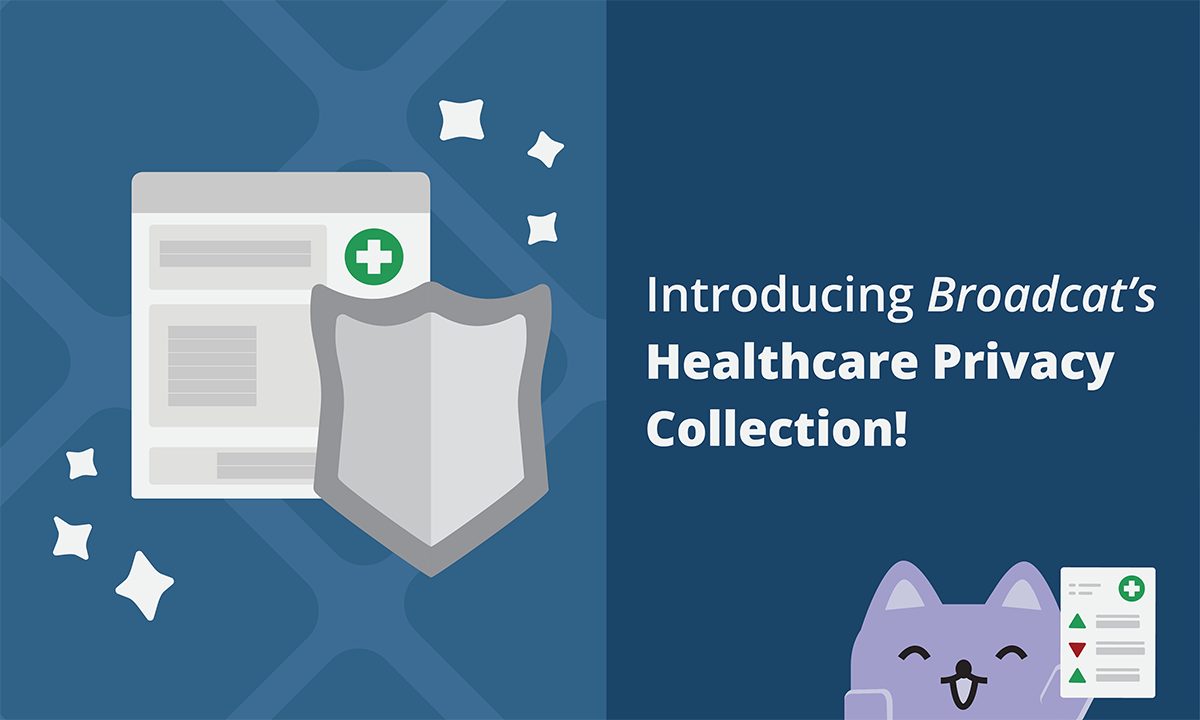 2 minute read ·
Introducing Broadcat's Healthcare Privacy Collection!

Jennifer May
Clearly communicating about healthcare privacy is hard, almost
like asking someone to reprogram their instincts. It's natural to want
to discuss a patient's health with other trustworthy people. After all, opening up brings lots of comfort in moments of anxiety. But while
the intention is nice, sometimes those simple conversations about someone's health can inadvertently reveal private patient
information. 😬
And that's not only a violation of a patient's trust; it's a violation of the law.
Plus, from open-heart surgery to a routine check-up, your medical teams are focused on making their patients better. Practitioners and admin don't have time to sit through hours-long privacy training sessions that they'll likely just end up forgetting.
So, how do you troubleshoot human nature in a healthcare setting?
Option A: Assign a privacy pro to every healthcare provider team.
Then, have them follow the team around all day to make sure every single compliance rule, guideline and regulation is being followed.
Super practical, amirite?
Option B:

Use Broadcat's training tools for instant impact

!


Healthcare professionals are kindhearted people with a lot on their minds, so equip your healthcare teams with privacy materials that
stick—no hour-long courses required!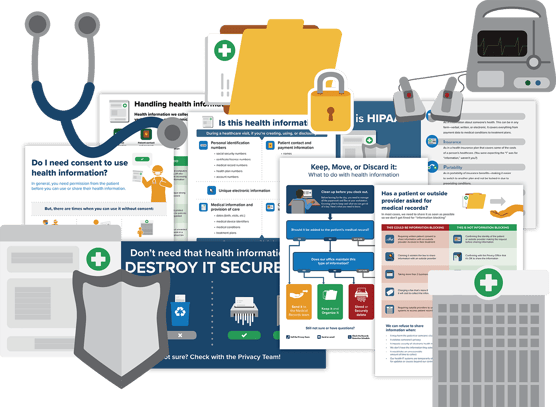 Health yeah!
We've untangled all those complicated, nuanced privacy rules so that your people will know exactly what to do, when to do it, and how to do it right.
❤️Privacy teams will love these materials because they get the job done efficiently and effectively.
❤️Healthcare teams will love them for their minimally invasive (pun intended) and high impact style.
❤️And patients will love them because their rights are respected.
OK, so how do these healthcare privacy tools actually work?
Think about your most common and preventable privacy issues.
Now stop thinking about them because we don't want your
blood pressure rising too much.
Our decision trees, infographics, and job aids in the healthcare privacy collection can address them all. Pick and choose what you need and tweak them to perfectly suit your policies and practices:
📁 Hanging up this do-this-not-that job aid in an exam room as a reminder to doctors, nurses and PAs to properly file away a patient's information.
🗑️ Taping this sign next to your recycle bins as a reminder that some information must be destroyed securely.
📋 Putting this infographic in the break room as a quick refresher on what counts as health information.
☑️ Providing your healthcare teams with an understanding of why we do what we do with our HIPAA fact sheet.
🔒 Sharing this job aid with your admin team to make sure no one is unintentionally delaying a patient's treatment.
Just imagine: Dealing with less privacy issues so you have time to focus on what matters most—better outcomes for providers and patients, and other big-deal issues that land on your desk.
Let's face it, you and your colleagues aren't privacy experts just because you like following rules. You care most about people!
You know, ensuring patient privacy isn't just about avoiding a breach. It's about building trust, making patients feel comfortable, and supporting them through scary and private situations. Our healthcare privacy tools help you do just that.
Want to see them all? Sign in to Design Club and check them
out today!
Not already a Design Club member? Connect with us to find out
how to join!