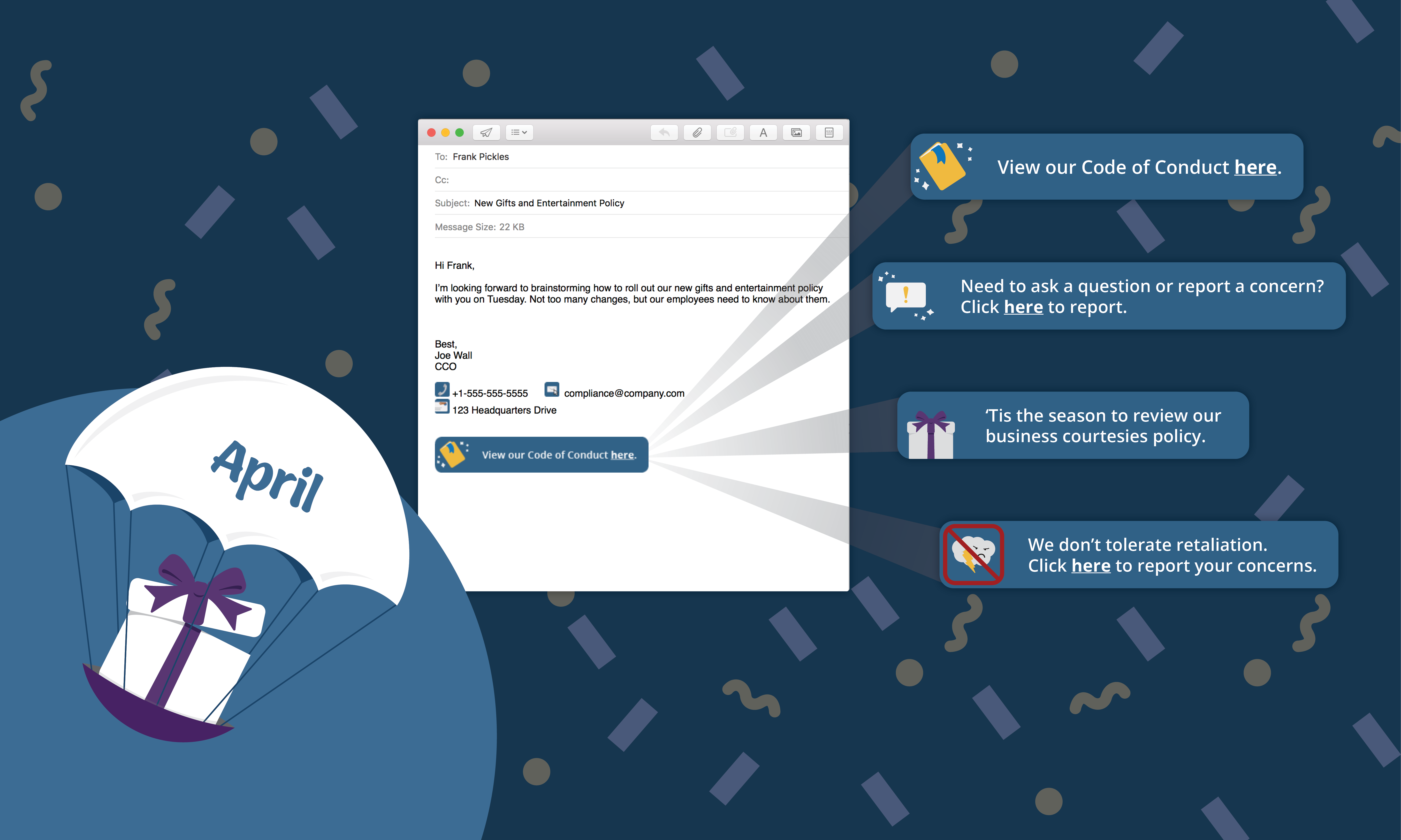 Email Signatures [April 2020 Gift]

Aimee Blanchard
• •
Got another free gift for ya!
It's April, and ... well, like Ricardo said in his video, we originally had a different free gift in mind.
Then March happened and threw us all for a loop.
And now most of us are working from home and adjusting to this new normal. All Broadcats are remote right now ... which means we get to see all kinds of pets and say hi to all the doors in Ricardo's guest room! (WHERE DO THEY ALL GOOOO?)
We've also noticed something when talking with y'all: everyone's figuring out how best to work and serve their teams when the world is in upheaval. We all want to be more effective, nimble, and empathetic.
So when we were looking at what to release for Design Club's free gift for April, we pivoted and identified something else that made more sense. Something that's way more pertinent when all your communications with your teams are electronic.
This month we've got ...
Broadcat's Email Signatures!
Compliance folks gotta keep compliance-ing. In fact, it's even more important now: people are more tempted to cheat when they're under pressure.
That's why you want compliance to stay front-of-mind without beating your teams over the head with it. (They have enough going on right now!)
How do you do that? By subtly getting compliance into every communication you send with our Email Signatures.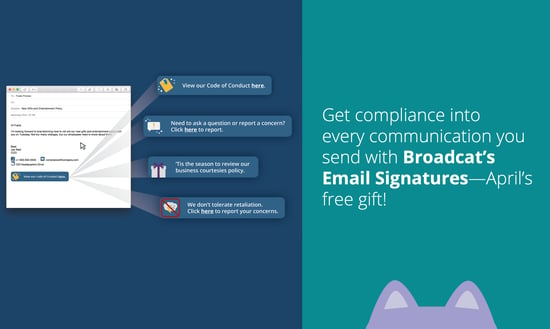 These things are kinda magical, to be honest. The pack includes over a dozen signatures, and they cover a bunch of different messages and risks: G&E, exports, conflicts, your Code, and more!
They also operate as calls to action. That's right: instead of being an inspirational quote, these signatures can be hyperlinked so you can give people specific things to do and they can click on it ... and go do it.
We also recognize that not everyone is super techie (or their IT team is harder to reach since we're all remote), so we've included instructions on how to insert and use them in your emails.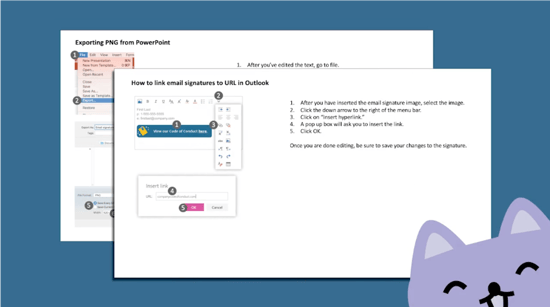 Yay for simple instructions!
I've saved the best for last: they're customizable! I KNOW—you can tailor these to your specific policies, intranet siteTM, and company branding. So not only will you have a super stylish email signature, but you'll be reminding folks about compliance with every email you send.
Two ways to get it!
For free: Already a Compliance Design Club Member in April 2020? Go check your account, you genius, it's already there! (And if you join before May, we'll send it to you directly FOR FREE!)
For 10 tokens: Is it after May 1st and you're still not a Member?
First, get on that! Get started here.
Second, all is not lost: you can still buy it with 10 tokens. Yup, you can have a simple way to keep compliance front-of-mind for your team and you'll STILL have plenty of tokens to spare!