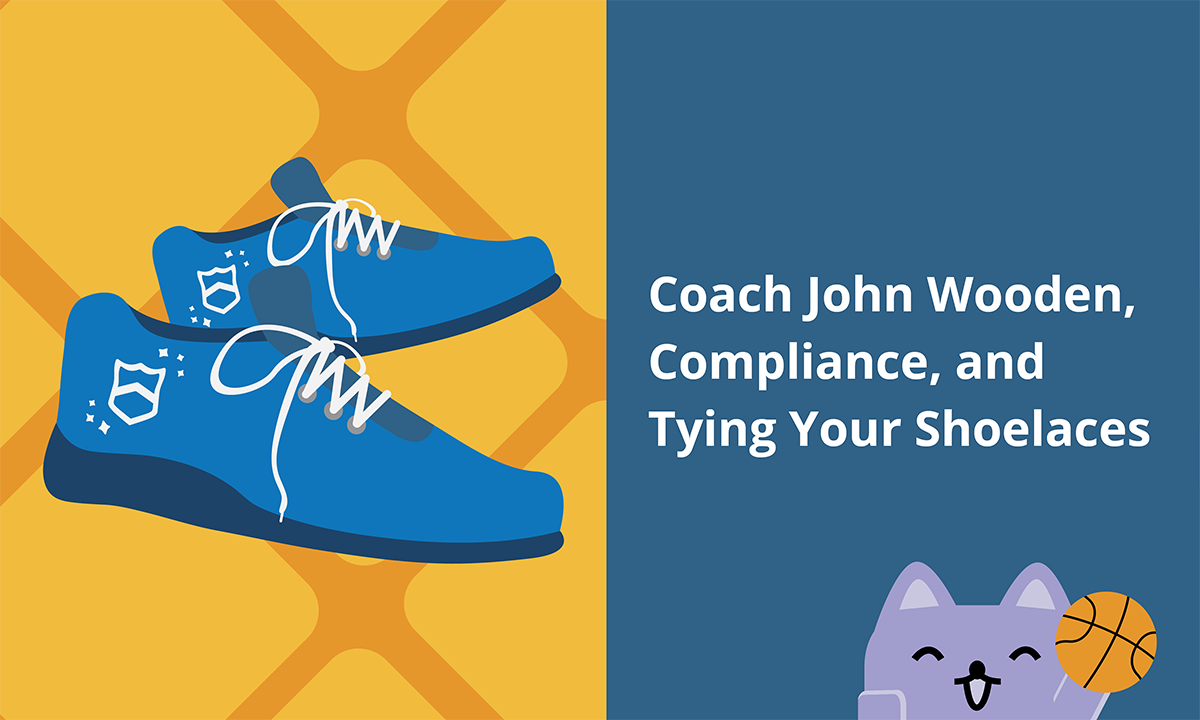 Coach John Wooden, Compliance, and Tying Your Shoelaces

Jennifer May
• •
Woah, the economy is rough right now. Budgets are tight and seemingly getting tighter. You may have even been asked to return some of your budget money. 💸 That's hard.
You know what else is hard? Continuing to do the right thing during tough times. It's never easy making the business case for a compliance program. But, when the going gets tough, that's the time compliance folks are needed the most.
It's tempting to take your foot off the gas when the company is in hardship (economically, politically, or functionally). And when revenue is taking a hit, it might seem tone deaf to ask for financial support or time on your teams' calendars. While you may want to press pause, stopping or pulling back is exactly the opposite of what you should do. Now is the time when your teams are stressed and tempted to take shortcuts. They need to be reminded of what's right, and how to do it right. It's time for YOU, compliance friends, to speak up.
Not sure what to say? Going back to basics is always a good start.
Compliance Wisdom from Coach Wooden
Did any of you ever play basketball? Or have a kid who plays basketball? Or watch basketball? 🏀 (No? Well, try to keep up with me here…) If you are even a casual sports fan, you've probably heard of John Wooden, the 10-time NCAA national champion coach of the UCLA Bruins. Famously, he always started by teaching a new player on his team how to tie their shoes.
"Hold on, Jennifer, are you really saying that he thought 18-year-olds didn't know how to tie their shoes?"
Well, in short, yes—at least not the right way. But the lesson was bigger than shoelaces: It was about fundamentals.
Hey, if it worked for Kareem, it'll work for us.
Compliance teams are leaders—coaches, even—for their organizations. Ensure that fundamentals are not forgotten, lost, or skipped in times of crisis. Here are some topics for you to consider communicating to your org.
Remind your folks of the organization's values and do a campaign around the

Code of Conduct

.
Anticipate needs and proactively push out

job aids

on the riskiest activities.
Promote the use of

your hotline

and quell fears by reminding everyone that retaliation is not tolerated.
Write a memo on behalf of a member of your leadership team that reinforces these messages and ask that it be sent out under their name. (It doesn't always have to be you sending the compliance message! Actually, it probably shouldn't be you most of the time.)
And if you're thinking, "I've already said that before," here's my reply: Just because you said it before doesn't mean it's not still relevant. And right now, your organization is under immense pressure to perform. Pressure may create diamonds, but it also causes cracks. Be the diamond that you are, and help keep people and organizations from cracking. 💎
Still not convinced? Let's go back to another piece of wisdom from Coach:
"If you don't have time to do it right, when will you have time to do it over?"
Need help? We're here for you! Reach out at jennifer[at]thebroadcat.com or on LinkedIn.